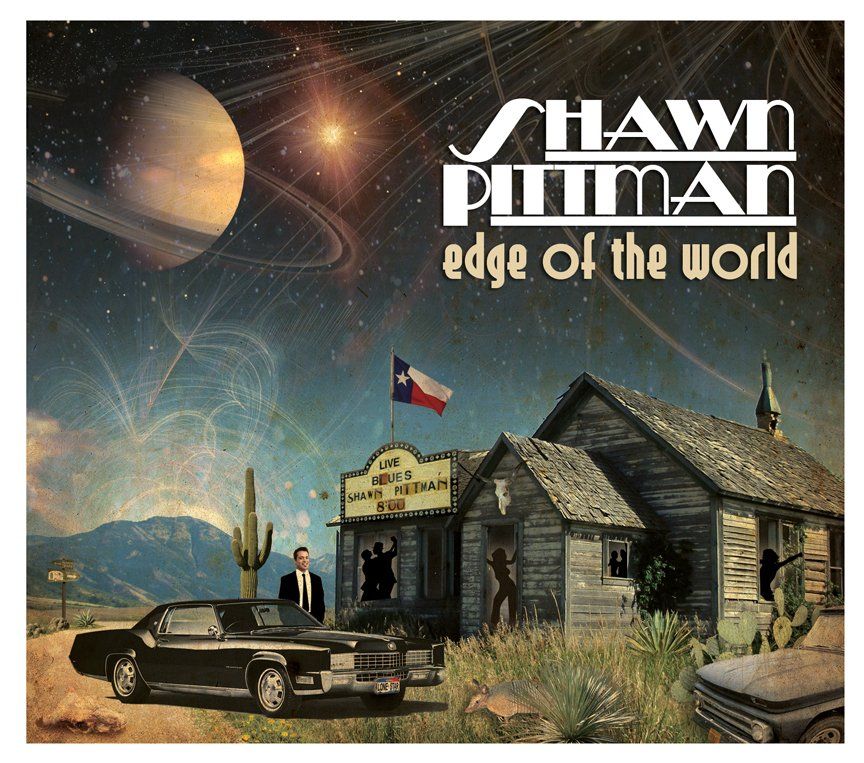 99 original songs over 15 albums.

New King In Town/Self Release/2002

Stay/Self Release/2004

Texas Northside Kings/Dial Tone/2005

Meridian/Self Release/2008

Undeniable/Self Release/2009

Movin' And Groovin/Feeling Good Records/2009(Europe Only)

Too Hot/Feeling Good Records/2010(Europe Only)

Shawn Pittman with The Moeller Bros Triple Troubles/Feeling Good Records/2011 (Europe Only)

Edge of the Word/Delta Groove/2012

Backsliding Again/Self Release/2015

Everybody Wants to Know/Bear Family Records/2018 (Europe Only)

Make it Right/CRS/2019(Europe Only)

Stompin' Solo/CRS/2020/Europe Only)
RECORDING HISTORY:
Shawn's first album, Blues From Dallas, was recorded in 1996 and later picked up and retooled for his national debut in 1997 as Burnin' Up on the Cannonball Records label.
The second album released in 1998 by Cannonball Records was Something's Gotta Give. It was produced by Jim Gaines,
Pittman toured as rhythm guitarist for Susan Tedeschi in 1999, and made a television appearance with her on the Conan O'Brian Show. The following year he relocated to Austin Texas and recorded his third album, Full Circle backed by the famous rhythm section, Double Trouble.
Shawn begin touring Europe in 2001 and maintained a consistent European touring schedule for the next several years as his fan base grew.
In 2004, an experimental album titled Stay was released. This album featured more rock sounds than previously showcased.
Shawn released several albums between 2008 and 2012. Titles released in the United States included: Meridian, Undeniable, and Edge of The World (on Delta Groove label). Albums released in Italy in, on Feeling Good Records, during this time frame included: Too Hot, Movin' and Grovin', Shawn Pittman with The Moeller Brothers.
The 2012 Edge Of The World marked Shawn Pittman's tenth release. He played every instrument, with the expectation of saxophone. Performing and playing everything from vocals and guitar, to bass, drums, and piano, on top of doubling as the album's producer and engineer, Pittman served up all his musical talent in a multi-track, one-man (almost) album. When asked to comment about the inspiration behind his latest and most ambitious project, Pittman stated, "I'm just playing the music I want to hear!"
In 201, Pittman recorded his 12th album, Everybody Wants to Know with longtime friend and drummer Jay Moeller.
In the Spring of 2020, Shawn recorded Make It Right in partnership with Netherlands-based Continental Record Services. In 2021 and in adaptation to the pandemic, he expanded his repertoire to include solo acoustic music and released Stompin Solo his first all-acoustic album. This album was also released and distributed by Continental Records in the Netherlands.
Shawn's latest album "Hard Road," was released in Fall of 2022. It was recorded as a live in-studio album in Austin, Texas with his current touring trio. The album and live show present a unique sound of a traditional trio mingled with the unexpected two guitar and drums presentation on selected tracks. Don't worry this isn't a three-piece band asking for more depth; this is a trio demanding a double take. Shawn's fiery guitar solos and soulful vocals are backed by the intense groove of vintage bass and drums. This house-rockin' trio will leave audiences mesmerized and wanting more.